德國 Berry.En BUJTI 膠原自生凝膠飲

BJUTITM 高效美肌配方 BJUTITM 是建立和補充皮膚膠原蛋白的突破性凝膠產品。有效對抗皮膚衰老,改善皮膚外觀。

每包 BJUTI 含有 2.5 克 VERISOL® 活性膠原蛋白多肽。科學證明,VERISOL® 可刺激膠原蛋白及蛋白聚醣合成,明顯增加皮膚水分含量,改善皮膚彈性,減少皺紋深度,增加真皮原膠原蛋白和彈性蛋白的濃度。

BJUTI 還含有美肌的維他命 B 群、抗氧美白的西印度櫻桃、覆盆子、紅石榴汁及白茶提取物,幫助您全身的肌膚保持柔軟嫩滑。

主要成分: VERISOL® 活性膠原蛋白多肽、維他命B群、西印度櫻桃、覆盆子、紅石榴汁及白茶提取物

用法:每天一包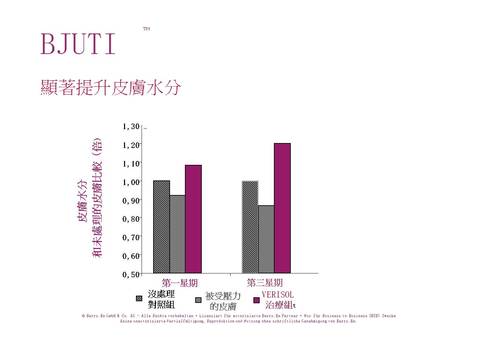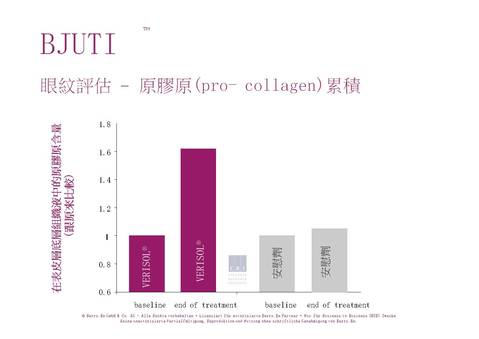 三星期顯著提升皮膚水分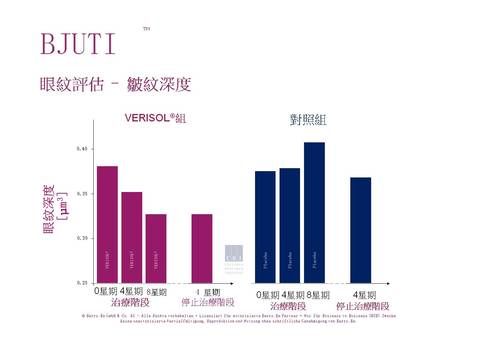 在表皮層底層組織液中的原膠原含量 (跟原來比較)提升

服用4星期後改善皺紋

BerryEn 直接銷售和詳細資料

OVERVIEW Youthful skin, beautiful hair and strong nails. Everyone of us wants to look radiant and attractive. However, our skin structure changes due to the ageing process and environmental influences. As a major component of tissue, hair, nails and particularly the skin, collagen plays a major role in this scenario. When the concentration of collagen decreases, the skin gradually loses its elasticity and tightness. The tissue slackens, resulting in sagging and increase of wrinkle depth.

BENEFITS What makes BJUTI™ so special? BJUTI™ contains VERISOL®, a specific collagen peptide. A constant intake of VERISOL® stimulates the production of collagen in the dermis - the innermost layer of the skin - that can hardly be reached by topical skin care products like creams. VERISOL® intensive care collagen tangibly improves the moisture content and elasticity of the skin and wrinkles can be straightened from inside. Furthermore, the strength of hair and nails is also being supported. Pure vitamin C from acerola juice as well as pomegranate juice, raspberry juice and white tea extract work against free radicals. Additionally BJUTI™ is formulated with B-vitamins that also contribute to healthy skin.

What does this mean for you ? BJUTI™ is not only a unique but also a "state of the art" nutritional supplement. The tasty and digestable gel contains various and scientifically proven ingredients to support the health of the skin as well as hair and nails. Let BJUTI™ be a part of your daily beauty routine.

INGREDIENTS Dietary supplement Gel with VERISOL® Bioactive Collagen Peptides and vitamins.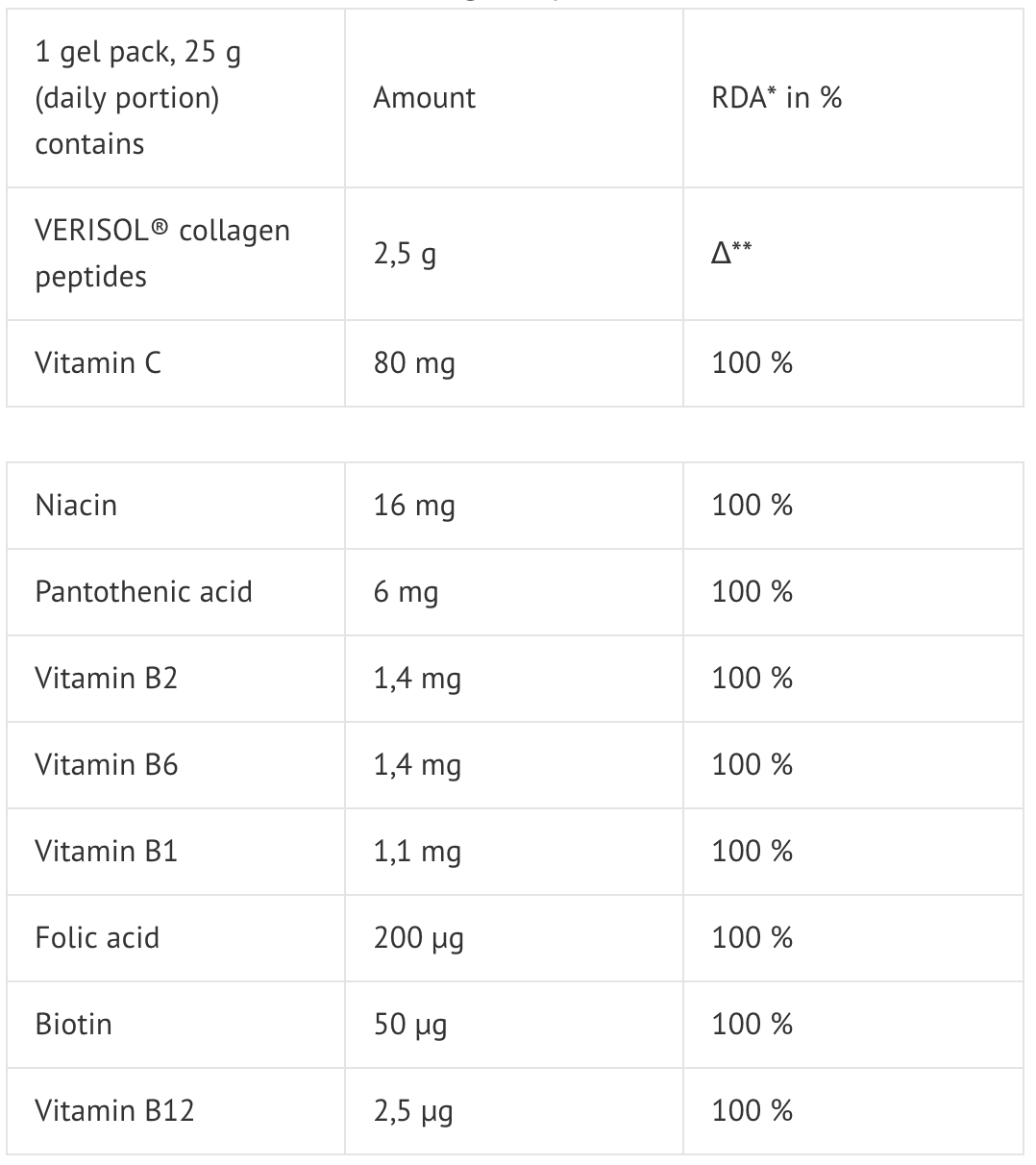 Ingredients: Water, collagen hydrolysate, fructose, acerola juice concentrate, pomegranate juice concentrate, gelling agent (xanthan gum, guar gum), raspberry juice concentrate, white tea extract, niacin, pantothenic acid, natural flavoring, vitamin B6, vitamin B2, vitamin B1, folic acid, biotin, vitamin B12.

* RDA = Recommended Daily Allowance (empfohlene Tagesmenge gem. EU-Richtlinie) ** ∆ = no daily allowance specified

VERISOL® is a registered trademark

Note: The recommended daily portion should not be exceeded. Dietary supplements should not be used as a replacement to a balanced and diverse diet. Store out of the reach of children. This product is not intended to diagnose, treat, heal or prevent any disease.

Recommended portion: 1 gel pack per day (25 g)

Berry.En BJUTI™ is free of the following additives:

no preservatives no colourants no artificial aroma no sweeteners gluten-free lactose-free saccharose-free contains no ingredients that contain or consist of genetically modified organisms (GMO) or are produced from GMO



BerryEn 直接銷售和詳細資料